Modular homes are already built to the building code. This insures our customers that their new home meets the building codes even before they are delivered to you. A third party inspects each home and places a seal on it to assure conformance.
This style of home can be built in one or more sections. By adding more sections Ranch, Raised Ranch, Cape, Two Story and Split Level or T-Ranches are made. Various shapes and designs are done by the arrangement of home sections.Typical exteriors include a 5/12 roof pitch and low maintenance vinyl siding. Various roof pitches are available also. They include 7/12, 9/12 and 12/12 depending on what you want. Exterior finishes options consist of cedar, vinyl, stone, or brick.
Interior features include stained pine, oak moldings, various types and styles of windows. ceramic countertop edges or floors. Vinyl, hardwood, and various types of carpet are also available for floor coverings. Eight, eight foot eight, and 9 foot ceilings are used as well as cathedral styles. Various types of floor systems are used including normal 2x8 or 2x10's, also truss systems are used. Truss joists offer in floor heating & plumbing systems, from the factory.
Your selections provide you with self-satisfaction as well as a top quality product that will last for years to come. Please stop and look through our models and let us help you build your dream home.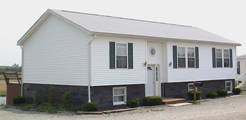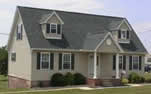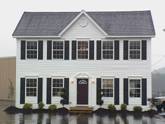 See more photos
Licenses Include: NMLS# 101157; MHBR NO. 2043; WV041000